Chain Gang Chase
Back-end, Front-end, Game Development, Publicity, Quite Nearly Everything
Chain Gang Chase is a game that can be played with up to eight players. I ran a successful Kickstarter campaign to raise funds and hire some students who will work with me full-time on the game this Spring.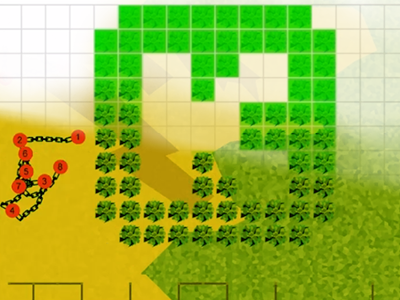 Chain Gang chase started as a side project for the OUYA game console, of which I am a backer. I wanted to make a couch co-op for the system, since that's my favorite type of gameplay.
I prototyped my idea.
I ran my own little development sprint in June of 2013, during which time I threw together a game prototype in libGDX, along with a companion website that features an online map editor, accounts (through A3M), and forums (through vanilla).

When OUYA launched their #FreeTheGames fund, I saw an opportunity to take my prototype through to production. With the full support of the Center for MAGIC at RIT, I drafted a plan for a Kickstarter, and set to work.
I produced this video.
The video sums up the project in under three minutes and it's where I point people to for a distilled description of the project. My dad and some students helped shoot the video, and then I did the editing work in Adobe After Effects.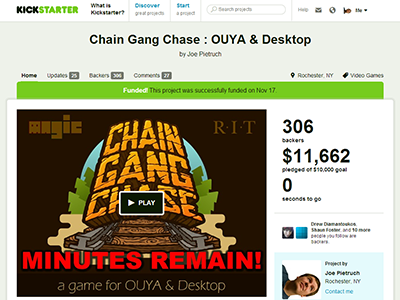 In what was perhaps the longest 30 days of my life, the project was live on Kickstarter. I tracked its progress obsessively, monitoring social networks, responding to questions, thanking backers, and publishing updates—all the while still teaching four college courses.
I ran a Kickstarter campaign.
Now that the campaign is over, I'm in the process of hiring two students: a game developer and a web developer. The three of us will work to polish the game and its companion website, getting it ready for launch in May 2014.